In this article you will learn simple ways business process automation can improve customer satisfaction. This week, we highlighted that 'Improving Customer Satisfaction remains the top priority for contact centres" (source Replicant).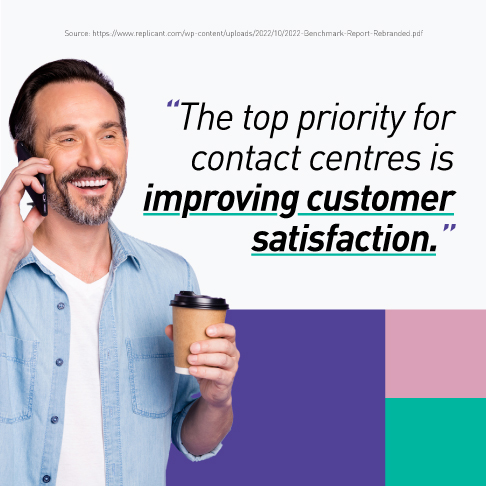 It's one of the biggest measures of how customers really experience your brand & whether they'll remain a customer or take their money & spend it elsewhere – with your competitors.
During the pandemic, customer satisfaction really took a hit whilst companies navigated switching from full time working from the office to working hybrid or fully remote. It highlighted a need to be more agile & better prepared for an uncertain future whilst highlighting massive gaps between how customers wanted their needs to be met versus how they were being met.
Since then, things have gotten better, contact centres have either settled back into full time working from the office or have adopted a more flexible approach having made successful changes that have worked out well but there's still a lot of improvements that need to be made & its why improving customer satisfaction is still a top priority for those who head up contact centres.
One way to achieve this is through business process automation, which involves using technology to automate repetitive tasks and streamline business processes. Not only does business process automation help businesses save time & money, but it can also significantly improve customer satisfaction.
Today, were taking a look at business process automation (BPA) & looking at some simple ways it can improve Customer Satisfaction (CSAT) with the added upside of reducing costs!
Here's some simple ways business process automation can improve customer satisfaction in contact centres.
Faster Response Times
One of the key benefits of business process automation is the ability to automate customer support processes, a simple example of this is automating replies via digital channels. By automating these replies, businesses can significantly reduce the response time, provide answers faster, better manage customer expectations & improve customer satisfaction.
Instead of having a customer wait for hours or in some instances even days to receive a response to an email, a social media DM or a WhatsApp, you can use automated responses to acknowledge the customer's message & provide an estimated time for a more detailed response.
In addition to this, contact centres can set up more complex automated conversations through AI powered chats that can present customers with a self-serve menu to find specific answers. Faster response times improves customer satisfaction but also frees up staff time to focus on more complex customer inquiries.
Personalised Customer Experiences
Another way business process automation can improve customer satisfaction is by providing more personalised customer experiences by automating processes such as data collection to gain insights into customer preferences & behaviour, which can then be used to tailor products & services to meet their needs.
A good example of this would be using business process automation to analyse customers purchase history to make product recommendations based on previous purchases. It's a simple but effective way to provide a more personal touch which in turn can increase customer loyalty & customer satisfaction.
Efficient Order Processing
Order processing is a crucial component of the customers experience with a brand. It's a part of the customer journey where delays & errors are more commonplace which more often than not results in frustrated, unhappy customers. Business process automation can really streamline the order processing process, reducing the likelihood of errors & delays.
Automating simple tasks such as order entry or stock management, it allows orders to be processed more quickly & more accurately leading to less complaints. In addition to this, you can use automation to provide real time updates on order statuses & delivery information which gives your customers greater visibility into the full order fulfilment process which in turn instils confidence in your service, reduces the need for customers to contact & chase up delivery information which again improves customer satisfaction.
Improved Productivity
If you want to improve employee productivity, you've guessed it, business process automation! Automate repetitive tasks such as admin tasks so you can allow your employees to spend more time focusing on more complex tasks. In doing this, agents can really get stuck into resolving tricky queries without having to rush & do a half-hearted job which will improve your first-time resolution.
Additionally, by automating workflows & processes, contact centres can reduce the human error whilst improving overall efficiency which in turn leads to a better overall customer experience, with the added knock-on effect of saving businesses money.
24/7 Availability
Another simple way business process automation can improve customer satisfaction is by allowing contact centres by providing 24/7 customer support. By using automated channels such as chatbots & self-service portals customers can contact you at a time that suits them & still access the information needed, quickly.
This can be especially beneficial for businesses with a global customer base, as customers in different time zones will have different support needs. By providing a good 24/7 support service, you'll improve customer satisfaction for those customers who need you outside of traditional business hours.
In conclusion:
Business process automation is a win, win for contact centres. From automating simple tasks to more complex processes, you will reduce human error, reduce agent workloads, increase agent efficiency whilst offering customers a more personalised, better-quality service.
This will reduce repeat queries & complaints, improve agent morale & more importantly, increase customer satisfaction! Satisfied customers are your brand champions, they'll work for you by referring your products & services to their friends & family.
So, if you're looking to improve your customer satisfaction, start looking at all the process that you could automate to free up more time for your agents so they can better service your customers – Then implement it!
To find out more about how QContact can help automate your business processes, get in touch today, via the website. www.qcontact.com & book a demo today.