Channel choice is a big differentiator when it comes to customer service for eCommerce businesses & for good reason. Read about the 5 Best eCommerce Customer Service Channels to Offer Your Customers.
There's an obvious disparity between the contact channels businesses offer their customers & the contact channels their customers prefer to interact with.
The below image shows the customer service channels commonly offered by businesses: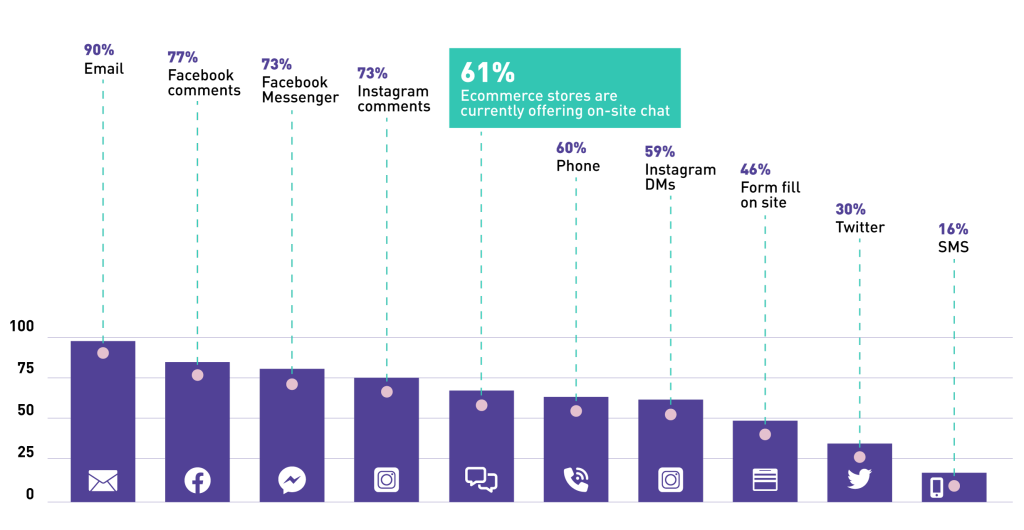 As you can see, the most popular channels that businesses offer are email & social media messages combined with comments management. E-mail is an obvious choice as the customers are already online, buying & because a lot of these transitions take place through social media sites such as Facebook or Instagram it crates the need for customer care teams to spend a lot of time managing direct messages & comments.
Live chat is on the rise, with telephone customer service closely behind but surprisingly, only 10% of businesses offer SMS/WhatsApp as a means of contacting them. Are they missing a trick?
There are plenty of eCommerce customer service channels that you can offer based on your business model, customer preferences & the resources you have available. Let's look at the 5 of the best customer service channels to offer your customers (based on ease of use & popularity) along with their advantages.
Live Chat:
Growing in popularity just to its ease of use, live chat is a real-time communication channel that allows customers to instantly contact your customer service. It's a popular choice for eCommerce support as its convenient (customers are already shopping online) whilst being fast & efficient. With live chat enabled customers can get their questions answered quickly without having to wait on hold or send an email.
For businesses that offer it, it's a cost-effective channel to manage, as one agent can handle multiple chat conversations at once, meaning more customers get dealt with faster. Not only that, according to data from Zendesk, customer satisfaction ratings for live chat is 85% which is second only to phone support which is 91%.
Self-Service:
Self-Service is fast becoming one of the most popular with the Harvard Business Review reporting that "81% of customers reported to have attempted to take matters into their own hands". Providing customers with self-service options like FAQ pages, knowledge bases & chatbots can help customers get answers to their questions quickly without having to contact customer service.
For businesses that offer it: It's extremely cost effective & can help reduce the workload for customer service agents, freeing up time for them to work on more complex queries which allows businesses to provide a better all-round customer service. Not only that, but it also provides customers with a convenient and accessible way to get help that works around their schedules.
Phone:
Despite the rise of digital channels, phone customer service remains a popular option for customers which is why most big brands still offer. Phone support allows customers to speak directly with a customer service agent & get a resolution to their issue quickly.  
For businesses that offer it, phone support is a great way to build rapport with customers & because 77% of consumers think good customer service is critical to earning brand loyalty & generating business (Netomi) it's a great way to provide a more personalised experience that sets them apart from their competitors.
Social Media:
Social media plays a strategic role in driving online sales, so it's no surprise social media channels like Facebook, Instagram & Twitter are increasingly being used for customer service. These channels allow customers to reach out to businesses at the buying stage & once a sale has been made, customers will reach out again from their 'last message' for continuity of service. Customers also like it as it allows them to publicly voice their concerns if they encounter any repeat issues.
For businesses that offer it, social media support allows them to meet their customers on their preferred channel. Social media is a tool that allows businesses to showcase their brand personality, existing customers as well as general consumers who stumble across brands via social media will appreciate your interaction with them in the comments & will also help you build a community of loyal customers. Adding automated chat to your social media channels also allows you to offer around the clock support.
Email:
Email remains a popular eCommerce customer service channel as it's used in our daily personal and professional lives and is readily available across all our devices. One of the main reasons it remains popular is that it allows customers to explain their issues in more detail & allows them to include multiple attachments such as photos or links to delivery information which makes it a preferred channel for customer complaints for this reason.
For businesses, it's a low-cost option that provides businesses with a written record of their customers queries or issues. It's simple to set up & customers know how to use it & know what to expect. One of the downsides for customers is that replies tend to be much slower, so if you want to make email customer service more efficient, add chatbots to automate part of the service to help manage customer expectations & speed things up.
In conclusion
Most eCommerce businesses offer customer support though the channels that are most convenient for them leaving a lot of customers frustrated & at risk of switching to competitor brands. It's important to offer customers a variety of customer support channels, that provide both seamless & convenient customer experience.
Bigger well-known brands tend to offer a good mix of traditional channels mixed with digital which offers their customers a more personalised service to meets all their needs. But be aware, more channels offered does not mean the service is better, sometimes the more channels you offer, the harder it can be to manage, so if you don't have the technology or the resources, try to offer the best channels for your customer base.
To find out more about how QContact can help you provide your customers with a more seamless omni-channel customer support, you can book a demo here: https://www.qcontact.com/book-a-demo